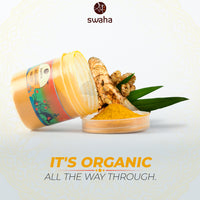 What is Swaha?
Swaha is a tiny startup that aims to simplify an integral part of our religious rituals – offering light to the deity to remove symbolic darkness of ignorance. For ages, we've seen our grandparents and parents use the traditional cotton wick and oil for this ritual. 
We want to keep those values alive today - by providing pure and quality products. Thinking about factors that matter to people - like not leaving a burning flame at home when they go to work, while still doing their ghee diya.
Allow us to simplify your ritual preparations – Order today! 
We're a family run startup based in Boston, USA and Bangalore, India.
Testimonials
Been using Easy Diya for quite some time. I like the fact that it is made out of ghee and it is in a candle form. It makes no mess when I light the lamp and there is hardly any residue to clean up. It feels safe because I can time it, 8mins and it'll be done before I leave home.

Srinath
Super convenient, no cleanup, no mess. It got my husband started praying as well. He loves it because he doesn't need to depend on me. He can do it on his own.

Vsh
I had bought agarbatti diya and smokeless kapoor...They were awesome....diya burnt so well without any hassle....the agarbatti had lovely fragrance and burnt quite long....kapoor had no smoke at all...
.thanks for your lovely products

Mini Arora